We recognize that all our patients are unique and deserve to receive orthodontic care that reflects their individual needs. Our experienced and talented team is committed to working with you and your family to create a comfortable, stress-free, and rewarding orthodontic experience every time you visit our practice.
We are pleased to welcome you and your family, and we look forward to working with you.
---
Gina
Treatment Coordinator
I have 13 years of experience in business administration at a pediatric dentist's office in Jupiter. Now working in orthodontics, I welcome new patients into our orthodontic family, deal with the financial aspects of treatment, and assist with insurance. I am also in charge of the marketing and advertising of our practice to the Jupiter community. I love working in this field, meeting new patients, and seeing their smiles when treatment is completed. I am so happy to work with an awesome doctor and a fun, energetic group of women every day.
My husband Jim and I have been married for more than 30 years. We have two grown boys, Dane and Spencer. Dane went to Florida State University and Spencer attended the University of Central Florida. I loved the football games and tailgating before the games! I love the town of Jupiter and the activities it has to offer: the beautiful water, boating, and great restaurants.
Pamela
Appointment Coordinator
I was born and raised in the Midwest, and graduated from the University of Illinois with a psychology degree. After graduation, my husband and I relocated to South Florida. Before entering the world of orthodontics, I worked for the Palm Beach County School District for 15 years as an attendance coordinator.
As a part of Family Orthodontics, I greet patients and their families with a smile, schedule appointments, and coordinate payments. The most incredible part of working here is the moment we take the braces off our patients and we get to see the smile transformation. It never gets old!
My husband and I have been happily married for nearly three decades. I have two grown children who graduated from FSU and FGCU. They both are giving back to the community. My son is a wildlife biologist and my daughter is a teacher. I am a runner and love to travel to new destinations to run local marathons. I also love taking my puppies to the beach and boating.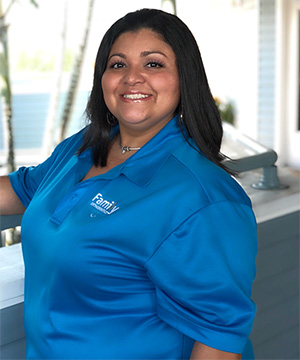 Natalie
Head Certified Orthodontic Assistant
I am proud to be the head orthodontic assistant to Dr. West. I have been working as a certified orthodontic assistant since 2003, and am happy to say that I love what I do. My job entails caring for our patients and making sure they have a great experience at Family Orthodontics. I love seeing patients so happy with their smiles, and knowing that we helped them achieve their smile goals. I enjoy meeting new people and making new friends with our patients while they are here with us.
Dr. West and my team are the best because we work together so well — like a well-oiled machine. Whether we are serving patients or just with our team, we always have a blast. We make every day at work fun, no matter what!
I was born in New York, but raised here in South Florida. I've been married since 2007 to my husband Farah, who is from Morocco. We have a little boy named Adam, who was born in 2009. We love traveling to Morocco and anywhere else we can go. I love to cook and bake, do photography, go to the beach, and travel. Adam is a Cub Scout, so I am a Scout mom!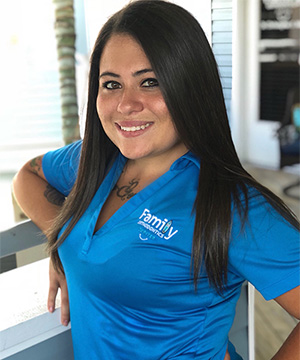 Ashley
Orthodontic Assistant
I joined Family Orthodontics in 2016 to perform dental tasks, help Dr. West, and care for our patients. I am a certified orthodontic assistant, certified expanded functions dental assistant, and licensed in dental radiography and CPR. Working in orthodontics is immensely satisfying. I love being part of a wonderful orthodontic team and playing a role in each phase of our patients' treatment.
At Family Orthodontics, we are all a happy family and love working together with our great team. To me, it's like my home away from home!
I stay very active with my two children: my son Carter and my daughter Karen. I enjoy being with them on the weekends, spending time outdoors and on the water, and doing CrossFit, paddle boarding, and exercising.
Katie
Orthodontic Assistant
I began my career in 2012 at our front desk, then came back to train as an orthodontic assistant. Now I assist Dr. West with patient care, and in the lab fabricating retainers and impressions. The best part of my job is working with a great staff to create beautiful smiles. We are all like family and can always count on each other. We always have fun at Family Orthodontics!
I was born and raised in Anchorage, Alaska, came to Florida to thaw out, and decided to stay! I have an older brother and sister and two handsome nephews I adore. My only baby is a black lab named Cobia who is almost four but acts like he's still a puppy. I've been an annual Disney pass holder for the last ten years. Any day off, you can find me with Mickey!